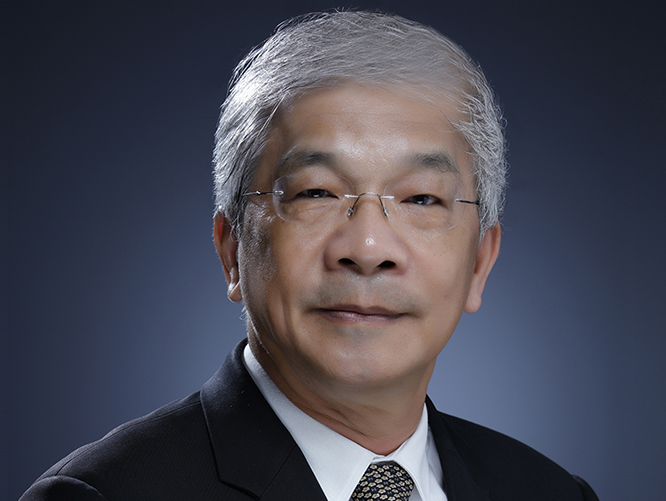 Message from the President
A Message from Dr. Ching-Ho Chen, President of Shih Hsin University
The School Development Plan and Vision
Shih Hsin University was founded in 1956 as Shih Hsin Vocational School of Journalism. It was elevated to a 5-year vocational school in 1960 and later became a junior college in 1991. In August 1997, it was upgraded to university status and renamed Shih Hsin University, which comprises four colleges: the College of Journalism and Communications, the College of Management, the College of Humanities and Social Science, and the College of Law. Shih Hsin University has adhered to its mission of offering an education that aims to cultivate students' intellectual capacity and moral integrity. It has also positioned itself as a university that excels in teaching and emphasizes communication technology. To maintain its competitiveness and unique characteristics, Shih Hsin University is dedicated to "integrating digital communications across all disciplines and combining digital intelligence with all courses."
Since I returned to Shih Hsin University in 2009, I have served as the Dean of the College of Journalism and Communications and Vice President of the University. During this time, I have witnessed the progress of the University. Eight years ago, the University proposed the four major goals in its Middle-Range School Development Plan, including "Excellence in Teaching, Effective Industry-Academia Collaboration, Citizens with a Holistic View, and Sustainability of the School," to address the declining birthrate problems and other severe management challenges caused by the overall environment. With the support of the school's board of directors and former President Wu, the University's overall success, including upholding the enrollment rate and maintaining financial stability, has been widely recognized by the educational authorities and the general public. With the solid and stable foundation already laid by my university predecessors, it is my great responsibility to further strengthen and secure the University's foundation and sustainability. It is for this purpose that I present the following five ideas for university management in the Middle-Range School Development Plan for the 112-115 academic years.
I. Establishing a Learning-Teaching Environment for Dream-Pursuing and Dream-Building
Shih Hsin University is known for its communication education. Despite the increasing competition among Taiwanese universities, the University will still insist on adhering to its tradition of "Integration of Theories with Practice." To create a high-quality teaching-learning environment and enhance students' professional competitiveness after graduation, the University will continue to integrate communication skills into all disciplines and improve the communication skills of our faculty. Based on this principle of integrating theory with practice, I will take the following five measures to maintain the University's leading status in Taiwan's higher education system, to make our students content with the University's teaching equipment, to integrate the liberal arts education with the whole-person education, and to raise students' motivation for learning. The five measures are: bridging the gap between industry and academia, increasing interdisciplinary courses, investing in extension education, maintaining the smooth operation of student-run organizations, and improving the faculty-administrator collaboration.
II. Empowering Faculty Members' Research and Practice Capability
Shih Hsin University is known for its excellent teaching. The courses offered at the University adhere to the concept of "integration of theories with practice." To let our students have the highest-quality learning experience and outcomes, our faculty members are not only expected to have superior teaching skills but also are encouraged to carry out interdisciplinary research, to apply for research grants, to organize research teams, and to present their research findings. Furthermore, the University will offer incentives to those with outstanding research achievements and special contributions to local academic affairs. The following five measures will be taken by me to empower our faculty members' research and implementation capabilities: "Matching industry demand and academic research, organizing interdisciplinary research teams, collecting funds for outstanding lectures, leveraging the research results of each research center, and encouraging newly recruited faculty to join research teams."
III. Providing A Proficient and Amiable Administrative Service
An outstanding university is supported by an efficient and amiable administrative system. Having served in the administrative units for years, I have always adhered to the idea that "Administration is service itself." I always remind our administrative staff to support the teaching units and to continue their professional development. As a result, the administrative system will be revitalized and more proficient, and the administrative staff will be more dedicated and more effective in communicating with the teaching units. To provide a more proficient and amiable administration service to our faculty members and students, I will implement the following five measures: "keeping communication channels open, enhancing team cohesiveness and a sense of team identification, implementing rewards and punishments fairly, unifying administration and teaching, and establishing a mutual care mechanism."
IV. Consistently Earning a Good Reputation for the University
During an interview, I claimed that the declining birthrate has caused great challenges for all universities to recruit students. Shih Hsin University has never complained about this great shift in the environment; instead, the University has started to renovate its teaching equipment and revise the curriculum so as to differentiate itself from other universities in teaching and to earn recognition from students and parents. "Making us unique!" is what the University keeps doing. In recent years, the University has completed setting up the Omni Media Center, Cloud-Based Digital Learning Center, Digital Creative Design Center, Digital Photography and Output Center, Big Data Center, Artificial Intelligence and Technology Living Center, Cloud-based and Smart Internet of Things Research Center, Community Creative Idea Center, and Digital Narrative Center, etc. In 2021, LED Virtual Stage was established and launched. Expanding upon this existing foundation, I will continue to improve Shi Hsin Univerity's good reputation and increase our enrollment rate by taking these five measures: "Forging our uniqueness from other universities, seeking funds for the construction of campus facilities, presenting teacher-student outstanding achievements, improving the quality and quantity of our faculty, and making a stronger connection between industry and academia." In addition, I will make a stronger off-campus connection and offer a better service to our alumni to make Shih Hsin University exceptional.
V. Establishing a Dynamic and Sustainable Campus
Keeping up with the digitalization of the media, Shih Hsin University's four colleges have utilized new media technologies in teaching and research to meet the needs of an increasingly digital media-savvy society. The colleges include the College of Journalism and Communications, the College of Humanities and Social Science, the College of Management, and the College of Law. Throughout the past few years, with an objective of increasing students' competitiveness in the future workplace, the University has officially renamed the Department of Speech Communication to "the Department of Speech and Social Media," the Department of English to "the Department of English and Applied Communication," and the Division of Network Science in the Department of Information Management to "the Division of Intelligent Network Application." In addition, the Board of Directors has supported the University in renovating its teaching equipment, lavatories, elevators, and dormitories to provide students the best teaching-learning environment. In order to build a more environmentally correct, gender equal, and overall student-friendly campus, I will take the following five measures: "pursuing transformation and reform continuously, creating an innovative and creative environment, strengthening a stronger connection among the alumni associations, introducing off-campus resources to the school, and maintaining the happiness and harmony indexes."
I will continue to supervise the implementation and effectiveness of these policy and curriculum revisions according to the five management ideas mentioned above. I personally believe that "Hard work will pay off in the long run." In the past two years, despite the changes in traditional pedagogy and research in higher education due to the Covid-19 pandemic, I believe Shih Hsin University can continue to grow and prosper through the application of such principles as integration of theory and practice, clear division of labor and responsibilities, and a rigorous self-assessment mechanism.